WWE ® Superstar "Queen" Charlotte Flair Shines In Shenzhen
One of the most talented superstars in WWE, "Queen" Charlotte arrived in Shenzhen today to promote the upcoming WWE Live China 2017 event taking place on 17th September 2017.
Born to a wrestling family, Charlotte Flair's father, Ric is a legendary superstar in WWE and a 16-time World Champion. Charlotte has made her own name by proving that talent, hard work and persistence are the cornerstones of success. With millions of fans worldwide, she is the real queen of WWE.
Charlotte is spending three days in Shenzhen as the ambassador of WWE Live China 2017 and staying at the Mission Hills Shenzhen resort. Today, she wore her signature ring robe and spread her wings in front of the Shenzhen Civic Center, paying tribute to the city of Shenzhen (often nicknamed "the City with Wings").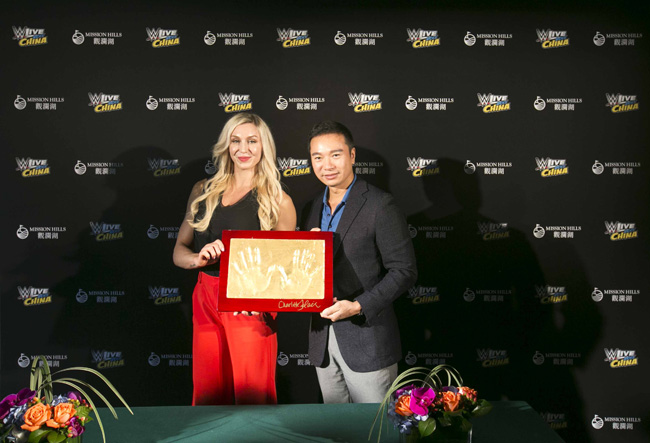 (Photo 1:  Charlotte Flair with Tenniel Chu, Vice Chairman of Mission Hills Group)
Charlotte also spent time with media at Mission Hills, together with Tenniel Chu, Vice Chairman of Mission Hills Group and Jay Li, WWE's Vice President and General Manager of Greater China.
Mr. Chu shared his story of watching WWE shows as a child growing up, and how a meeting with WWE's Stephanie MacMahon at last year's Sports Matters China conference at Mission Hills led to this eventual partnership between his company and WWE.
"Mission Hills, the largest golf club in the world, is excited and proud to partner with WWE, a global entertainment company, to bring WWE Live to China," said Mr. Chu. "Together we are bringing the excitement and family-friendly entertainment of WWE LIVE to fans here in Shenzhen for the very first time."
Charlotte talked about her excitement to perform in the Shenzhen live event on September 17th and hoped to showcase her in-ring skills and personality, giving Chinese fans a great experience of WWE's family friendly entertainment. Additionally, Mr. Li shared some future plans to further expand WWE's reach in China.
In the afternoon, Charlotte met with 100 fans of WWE Universe in the MH Mall at Mission Hills. She even took a selfie with the fans to memorize this special moment. She also visited a group of professional skateboarders in Mission Hills Centreville.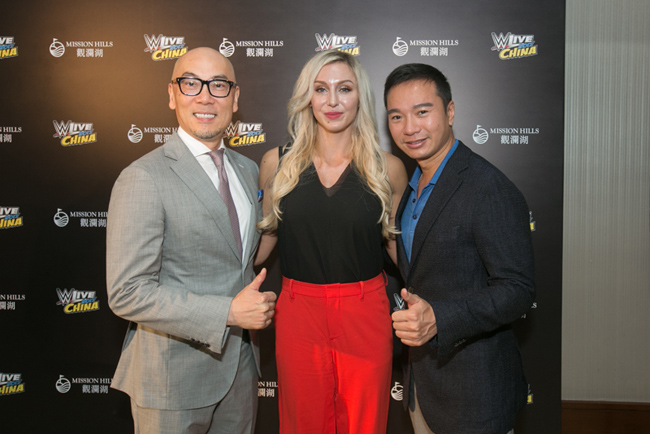 (Photo 2: Charlotte Flair with Jay Li (left), WWE's Vice President and General Manager of Greater China and Tenniel Chu (right), Vice Chairman of Mission Hills Group.)

On 17th September, Charlotte will step onto the stage in Shenzhen with 16-time WWE world champion John Cena and other WWE Superstars such as Dolph Ziggler, Shinsuke Nakamura, Kevin Owens, The New Day, Becky Lynch, Natalya, Sami Zayn and many more. The brilliant performance presented by WWE Superstars in this extraordinary wresting entertainment show will definitely provide a memorable weekend for Chinese audiences.

Tickets for WWE LIVE China will be available this Friday, June 16 at 10am Beijing-time.

Tickets can be purchased in www.Damai.cn and its booking hot line 1010-3721.