DOUBLE PIN COURSE
1,921 Yards / Par 54
The Course
This collection of 18 par 3 holes incorporates a unique and distinct feature; two pins at each green. Greens are designed to offer two options; one easier and more assessable location and one much more difficult. An arboretum style landscape will provide an enjoyable atmosphere full of colorful trees and flowers, complimenting the blue skies and clean air of Haikou. Players of all levels will be able to play the course to what best suits their mood or skill. Families and beginners to tour pros will all find a quick round to compliment their days play or practice session.

4,940 SF (459 Square Meters)

Average Green Size
Course Architect
Brian Curley · Schmit-Curley Design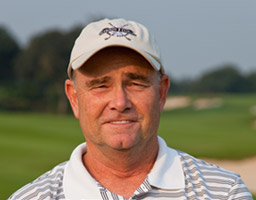 Course Architect
Brian Curley · Schmit-Curley Design
Schmidt-Curley Design is responsible for crafting 10 of the 12 courses at storied Mission Hills Golf Club — the "World's Largest Golf Club" — and designed and built all 10 layouts at Mission Hills Haikou. Acclaim for Schmidt-Curley includes Asian Golf Monthly's #1 Golf Course Architect in Asia-Pacific, and recent recognition from Golf Inc. magazine as one of the world's "most influential" design companies.


2 Pins on each green (1 Difficult Pin, 1 Easy Pin) Wild Greens.
Arboretum Style Landscape (Lots of colorful shrubs & Trees on perimeter of golf course).