HAIKOU MEETING AND CONFERENCES
Mission Hills • Haikou is nestled amid lush green gardens with an 18-storey luxurious resort block, a nine-storey resort annex, a three-storey clubhouse, ten volcanic golf courses, shopping arcades, meeting facilities and a fully-equipped sports and
recreation center. The complex is built with world-class resort, entertainment, mineral springs and spa facilities, establishing itself as one of the most sought-after leisure destinations in China.
Meetings & Events
Mission Hills has a wealth of experience hosting international events. Mission Hills•Haikou has complete and comprehensive facilities for meetings, catering for events for up to 1,600 delegates and featuring a full range of state-of-the-art audio-visual
equipment.
The Grand Ballroom features elegant décor and floor-to-ceiling windows with breathtaking views to create an exceptional backdrop for any event.
A pre-function foyer and a spacious multi-purpose holding room dedicated as a VIP room, bridal room, or backstage and dressingroom.
An outdoor poolside area with a pavilion for wedding parties and any kind of celebration.
Five multi-function meeting rooms with flexible setup options.
State-of-the-art sound systems, comprehensive facilities and equipment, high-speed wireless internet access, built-in screens and full on-call technical support.
Professional and personalized event-planning services.
World-class catering and legendary standards of services.
Meeting Services & Facilities
Professional event planning team
Fully equipped conference rooms, multi-function rooms and ballrooms
LCD projectors and screen
Broadband Internet service
Conference stationery
Reception table and floral arrangement
Chinese & Western Business Menus
Themed Buffet
Themed refreshment
Bottled water
Accommodation
Amid the grandeur of the volcanic landscape, the Haikou's Mission Hills Resort features 518 spacious suites and rooms with breathtaking, panoramic golf course views. To meet the needs of the most discerning travelers, the resort also includes more
than 10 restaurants serving cuisines from around the globe, a fully-eqiupped fitness center, an indoor swimming pool, a kids' gallery and a recreation center. For guests who need to stay connected with work, the all-in-one Business Center offers
professional secretarial services and administrative support.
Transportation
From

Distance (km)

Duration (min)

Haikou Meilan International
Airport

20

15

Haikou Convention Center

30

25

Eastem High-speed Railway Station

-

17

Haikou
Train Station(Guangdong-Hainan Railway)

-

38

Boao

105

60(by high-speed railway) 90(by car)


Boao

Distance (km)

105

Duration (min)

60(by high-speed railway) 90(by car)


Baoting

Distance (km)

-

Duration (min)

160

Sanya

260

120(by high-speed railway) 180(by car)
180(駕車)

Sanya

Distance (km)

260

Duration (min)

120(by high-speed railway) 180(by car)
180(駕車)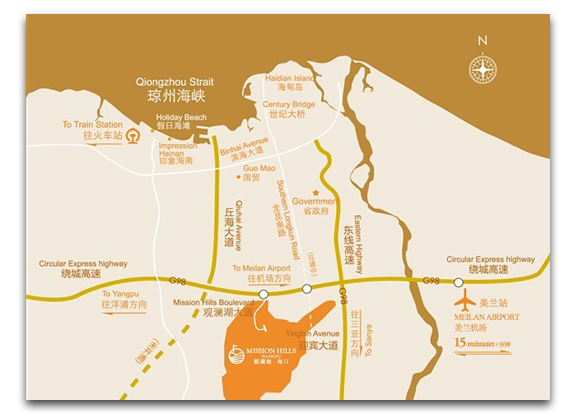 Enquiries and Reservations

Haikou: (+86 898)6863 3388